Saturday, February 11, 2012
One's in love and gonna get married, One's happy round and gonna be a new mommy, One's gonna be a mommy three times over, Two are gonna turn thirty, One's signing on the dotted line and gonna be a home owner, One went home and is heaven's new victory and this one........She's gonna party. She's calling it 2012, the year of the party and she's gonna pray for grace to count it all joy.
Posted by

theelizabethhighsmith
at 11:10 AM
2 comments:


Monday, January 2, 2012
In all the new and hopes and dreams and blanks on the page may the old, old truth guide your way and fill your days.
"Through the Lord's mercies we are not consumed. Because His compassions they fail not. They are new every morning; Great is HIS faithfulness.
Lamentations 3:22-23
He IS. Happy New Year
710. for last January's day's off
711. for January's creative day and brunch
712. for February's Valentine's dinner with my family
713. for March's thrill of a new home
714. for April's exciting New York adventure
715. for May's Easter party
716. for June's 30th birthday celebration
717. for July fourth with the Schwartings
718. for August's girl's movie day
719. for September full of birthday's of those I love
720. for October's span of weekend traveling fun
721. for November's shopping with Melissa and laughing with friends
722. for December's redemption and celebration
723. for year's full of countless blessings
724. for
His mercy to hold us up should our feet slip
725. for His victory lived out defeating my sin
726. for the sun that fills me reminders of Him
727. for fun loving
Edie pointer to the truth
728. for strings of days spent with the best and dearest friends
729. for Mama answering the phone
730. for Dad's texts
731. for quick and spicy tomato soup
732. for hot fudge gifts
733. for hot fudge to eat
734. for the heater's warmth
735. for the Lord our banner coverer of all these days
736. for those mercies always new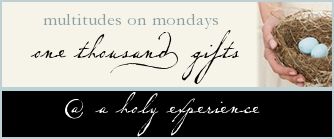 Posted by

theelizabethhighsmith
at 10:00 PM
1 comment: